MIDI-Player Version 2.12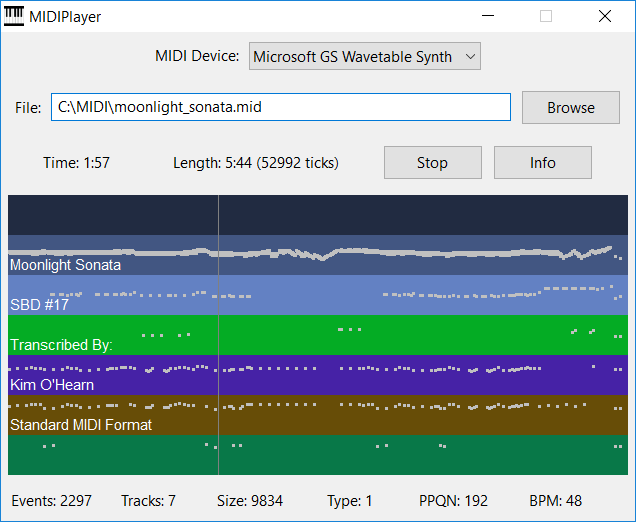 Download MIDI-Player Version 2.12 for Windows 10/8/7 (8.3 MB)
MIDI-Player is a free MIDI file player with detailed file information display including individual track details (including title and note data).
MIDI-Player lets you to select any MIDI interface present for playback and can be used to play a file through an external synthesizer or MIDI device.
It is a complete rewrite of an older Windows XP program (MIDI-Player 1, released in 2006) that relied on DirectMusic, which is no longer supported by 64-bit versions of modern Windows. Instead, it has it own MIDI decoding and playback engine and uses the RtMidi libraries for output.
Changes in MIDI-Player Version 2.12
Note pitches were reversed in the track visualization, with high notes showing up toward the bottom of the track view. This has been fixed.
Changes in MIDI-Player Version 2.11
Added pause button.
Fixed a screen redrawing problem when loading a new file after one has already been loaded.
Changes in MIDI-Player Version 2.1
Improved file loading.
Added some error handling for loading files with incorrect track length set.
It's come a long way. Version 1 looked like this:

MIDI-Player has had more than 28000 downloads.