Champion Stock Chart Viewer Version 1.01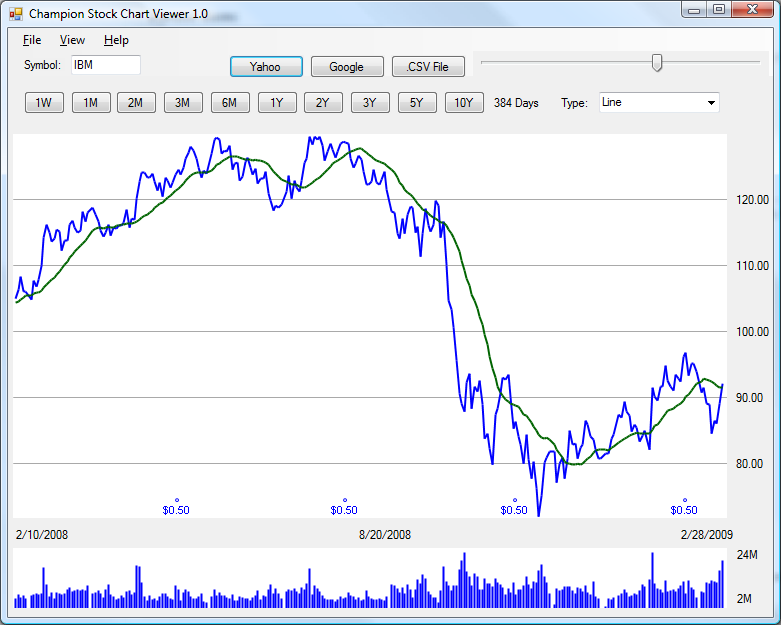 Download Champion Stock Chart Viewer Version 1.01 for Windows 7/Vista/XP SP2+ (90 kB)

The Champion Stock Chart Viewer lets you download, view, save, and print stock charts. Dividends, splits, and moving average indicators are supported.
The viewer has the following features:
- Download data from Yahoo or Google.
- Imports data from .CSV files.
- Displays volume, dividends, and stock splits.
- Can display moving average and exponential moving average.
- Configurable colors.
- Printable charts.
- Can export downloaded data to .CSV files for use in other applications.
- Supports line, bar, and candlestick charts.
- Can display data for up to 10 years.
- Graph auto-scales as data range changes.
- Supports anti-aliasing for smoother graphics.
- Can save chart as a bitmap image.
- Can copy chart image to clipboard for pasting into other applications, such as Microsoft Word.
- Remembers previous chart style and color settings.
- Runs on Windows 7, Vista, and XP.
Changes Between Version 1.0 and 1.01:
Fixed a bug that could cause the application to crash on exit on Windows 7 and Vista.
Updated window icon.
The Champion Stock Chart Viewer is freeware and may be distributed freely.
Champion Stock Chart Viewer has had more than 1000 downloads.