RoboBlather Version 1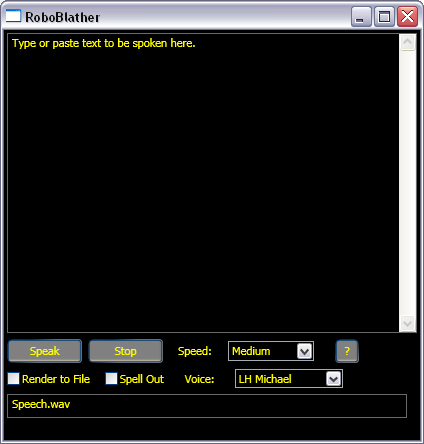 Download RoboBlather Version 1 for Windows 7/Vista/XP SP2+ (70 kB)
Get the Microsoft .NET Framework 3.0 (Required by RoboBlather)
RoboBlather is a text-to-speech application. It uses the built-in speech synthesis power of the .NET Framework 3.0 to generate speech from whatever text you paste into the edit window. You can control the speed of the voice, render the output to a .wav file, and select any of the installed voices on your machine. Different machines will have different voices available. On our development machines, these are the voices that were available:
| | |
| --- | --- |
| Windows XP | Windows Vista |
| | |
The list of available voices will vary based on the software you have installed on your system, but with the .NET framework installed you should have one or more voices.
RoboBlather is freeware, but we welcome donations if you find the program useful or just want to encourage us to create more free software.
RoboBlather has had more than 10000 downloads.