Guitar Tuner Version 1.02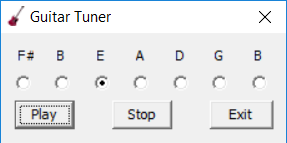 Download Guitar Tuner Version 1.02 for Windows 10/8/7/Vista/XP SP2+ (5.3 MB)
This is a simple and compact guitar tuner application. It uses the Windows MIDI system to play notes that you can use to tune your guitar. It only supports standard EADGBE tuning.
Source code for this program is available on GitHub.
Sign up for email updates and we'll let you know when a new version of Guitar Tuner is released.
Guitar Tuner has had more than 60000 downloads.