Bass Tuner Version 1.02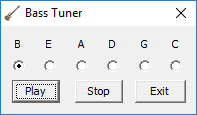 Download Bass Tuner Version 1.02 for Windows 10/8/7/Vista/XP SP2+ (5.3 MB)
This is a simple and compact application to help you tune your bass guitar. It sounds tuning notes using the Windows MIDI system. It supports six-string basses, but it only supports BEADGC tuning.
Source code for this program is available on GitHub.
Sign up for email updates and we'll let you know when a new version of Bass Tuner is released.
Bass Tuner has had more than 59000 downloads.