Welcome to the home of the Vorbital Player, a free music and audio file player for Windows 7, 8, Vista, XP, and Ubuntu Linux.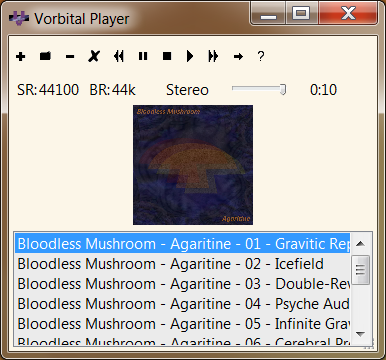 Vorbital Player is also available for Ubuntu Linux via the Ubuntu Software Center.
The Vorbital Player is freeware and may be distributed freely.
Vorbital Player is an MP3 and Ogg Vorbis music player. It uses OpenAL and is small and compact in order to take up as little screen space as possible (though you can, of course, resize the window if you would like a larger playlist).
MP3 is the most widely used file format for digital music. It is a compressed, lossy format that takes up about a tenth of the space of a .wav file, so is ideal for storage on portable devices or transmission over the internet.
Ogg Vorbis is a free music codec that is unencumbered by patents and can be freely used by everyone. Audio encoded with Vorbis is usually slightly higher quality than an MP3 or WMA file recorded at the same bitrate.
Vorbital supports playback of MP3, Ogg Vorbis, .WAV, Wavpack, AIFF, and SND format audio files.
The Vorbital Player will also display album art if there is a Folder.jpg file present in the same directory as the currently playing file.
Check out some screenshots of the Vorbital Player in action or find out how to get music to play with the Vorbital Player.
Click here to read the Vorbital Player manual.
The Vorbital Player is free software and may be distributed freely.
Check out the Changelog for a list of changes since the last release.
The Vorbital Player project is sponsored by Zeta Centauri.
Vorbital Player has been downloaded more than 70000 times.