Zeta Telnet Version 3.01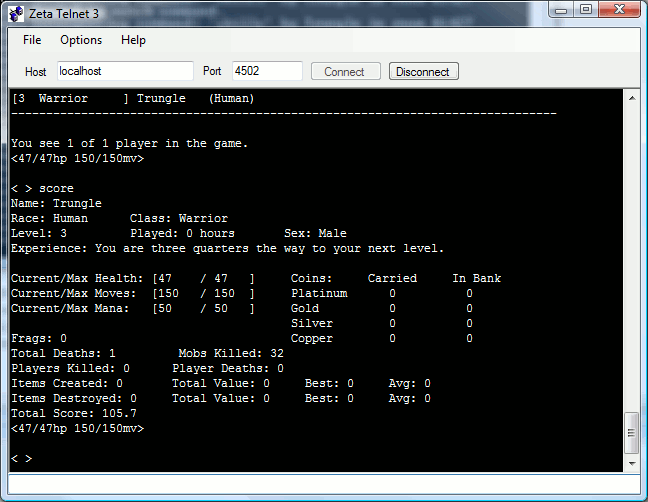 Download Zeta Telnet Version 3.01 for Windows 7/Vista/XP SP2+ (80 kB)

This is a simple and compact telnet client for Windows.
Zeta Telnet was written using C# and .NET 2.0. It requires the .NET 2.0 runtime which can be downloaded HERE.
This application is freeware and may be distributed freely.
Changes in Version 3.01:
1. Created installer/uninstaller.
2. Minor adjustments to interface.
Changes in Version 3:
1. Default background is now black, but color can be changed under the Options menu.
2. Up and down arrows now let you select previously-sent text to send.
3. Window can now be resized effectively.
4. Better connection error handling.
Changes in Version 2:
1. Added disconnect button.
2. Added menu.
3. Added setting to strip ANSI color codes from received text under Options->Settings.
4. Added save option to save output window text as a Rich Text (.rtf) file.
Zeta Telnet has had more than 20000 downloads.