ZetaTag Auto-Renamer Version 1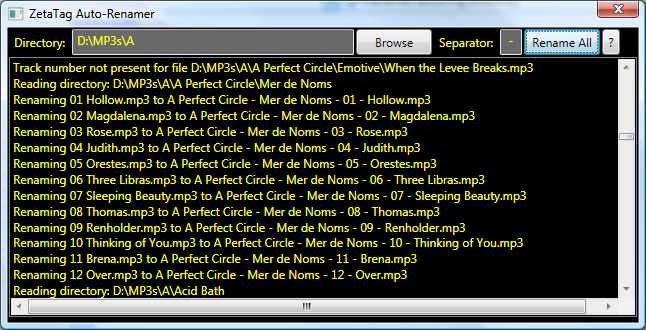 Download ZetaTag Auto-Renamer Version 1 for Windows 7/Vista/XP SP2+ (190 Kb)
Get the Microsoft .NET Framework 3.5 (Required by ZetaTag Auto-Renamer)
The ZetaTag Auto-Renamer is a quick and easy tool to rename music files into a format that is easily recognized by Humans. It uses tag information to automatically rename all MP3, WMA, and OGG music files to the following format:
Artist - Album - Track Number - Track Name.ext
It automatically traverses subdirectories and will rename any files it finds.
Files without a full set of tag information for artist, album, track number, and track name will not be renamed.
This application does not allow configuration beyond the separator character (some people like to use underscores because they are more internet-friendly). It does only one thing and it does it well - it changes filenames to the "one true format". It's pretty quick, too. On our test system, it took 50 seconds to process 2600 files in 54 subdirectories.
This program was created for the purpose of maintaining our music collection, but it is provided for free here in case it will be useful to others.
The ZetaTag Auto-Renamer is freeware.
The ZetaTag Auto-Renamer was built using the TagLib# library.
ZetaTag Auto-Renamer has had more than 5000 downloads.