ZC Dice Version 1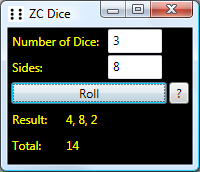 Download ZC Dice Version 1 for Windows 7/Vista/XP SP2+ (70 kB)
Get the Microsoft .NET Framework 3.5 (Required by ZC Dice)
ZC Dice is a small and compact program for generating random numbers and simulating die rolls. It is intended to be used with tabletop or pen-and-paper gaming, but it can be used for any purpose that requires random numbers.
ZC Dice is free software and may be distributed freely.
ZC Dice has had more than 5000 downloads.